About Us and Our Guides
Blue Rhino Expeditions is a partnership between Edward Ernest Kutingala, a Tanzanian Masai, and me, Bill Redwood, an Atlanta physician.
In Nov, 2000, I climbed Kilimanjaro via the Shira Plateau route.  As I was traveling solo on a lesser traveled route at an off time of the year, I stood out a bit.  In 2003, I was asked to give a talk about climbing Kilimanjaro.  To enhance my knowledge of the mountain and my credibility as a speaker, and to play a little joke on my friends, I trekked Kilimanjaro again this time via the Marangu route—I wanted to see the huts that I had heard so much about. 
Naturally the topic of my having climbed Kilimanjaro before came up, and one evening, I was discussing this with the lead guide and the two assistant guides.  Suddenly, Ernest, one of the assistant guides said, "I thought that you looked familiar!"  It turned out that Ernest had been one of the porters on my first trek—he even remembered some of the details of our trip.  When I got home, I found his picture in my album. 
We kept in touch over the years, and after a mountain of work (no pun intended), Blue Rhino Expeditions was born.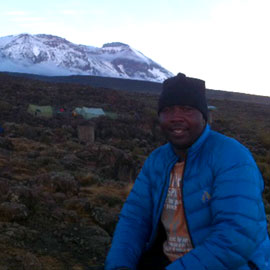 Ernest has worked on Kilimanjaro for over 10 years as a porter, assistant guide, lead guide, and now outfitter.  He has been on the mountain hundreds of times.  Ernest is also an excellent safari guide. 
However, Ernest's true passion is Maasai Joy, his school near his home town of Arusha.  The money that Ernest earns outfitting and leading Kilimanjaro treks and safaris goes to support his family and school.
As for myself, I have trekked to Everest Base Camp, hiked and biked in six European countries, and gone on medical missions to Ecuador.  Traveling and exploring are two of my great joys!
Images from Ernest's School - Maasai Joy:

Your experience begins with our US-based team who will send you a Blue Rhino Information Pack and talk through your plans, including your group, your needs, your budget and your goals for your Kilimanjaro adventure.